Channel 4 News Editor Talk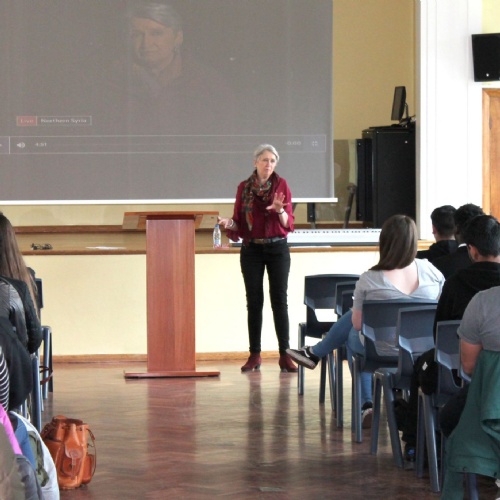 On Wednesday 27th March, Channel 4 News International Editor, Lindsey Hilsum, visited St Angela's Ursuline School to talk to our Year 12 students.
Lindsey has reported on many of the conflicts of recent years including in Syria, Ukraine and the Arab Spring. She was in Baghdad for the 2003 US invasion of Iraq, and in Belgrade for the 1999 NATO bombing. In 1994, she was the only English-speaking correspondent in Rwanda when the genocide began.
Lindsey spoke to the students about her work as a journalist, about the challenges, excitement and emotional toll of reporting from dangerous war zones. She also spoke about her career path into journalism and gave our students advice and answered their questions about how they too could pursue a career in journalism.
She has just published a biography: "In Extremis - the Life of War Correspondent Marie Colvin".
Angela De Luca, Assistant Headteacher, commented on the importance of having such inspiring speakers in school to speak to students."Lindsey's visit was so honest and motivating and also highlighted the importance of news literacy for young people and the means in which students gain access to this vital information to inform their cultural capital."
Students engaged very well and asked excellent questions at the end of the talk, Nabilah and Sunnah in Year 12 stated how"it was inspiring to see that, as a woman, Lindsey was able to succeed in such a competitive field. It made us realise that we too have the potential to achieve our career ambitions!"