Careers
Careers Programme Information
St Angela's Ursuline School employs an experienced and professionally qualified Careers Adviser (Post Grad QCG) 2.5 days per week to provide students with Careers advice and guidance.
In addition we use '15 Billion Careers Provider' for an additional Careers Adviser for 1 day per week. Careers activities are also delivered by teachers through our PSHE programme. (All students in Key Stage 3, 4 and 5 have 1 hour of PSHE timetabled every week.) Subject departments also organise careers talks and trips with employers and universities.

Careers Contacts:
Examples of Careers Programmes undertaken by our students:
Key Stage 3
Careers Assemblies in Year 8 + 9 Weekly
Year 9 Wednesday Lunchtime Careers Drop In Clinics Spring Term with School Careers Adviser
Year 9 Careers Guidance appointments with 15 Billion Careers Adviser
PSHE Intro to online careers exploration packages KUDOS + e Clips. Also STEPS careers education booklets.
Series of Assembly Subject Department "Options" Presentations – Year 9 Spring term
Year 9 Options Pathways Evening Spring Term
Industry Careers talks + visits organised via links with Newham Borough CEIAG Network
STEM link to TFL (Transport for London) Inspire Engineering Day
Key Stage 4
Year 10s and 11s Lunchtime Careers Drop In Clinics (held on Wednesdays) with the School Careers Adviser
Year 10 Careers Guidance appointments with School Careers Adviser + 15 Billion Careers Adviser
Post 16 Options Talks (comparing A level, BTEC + Apprenticeship Pathways) for all Year 11s with the School Careers Adviser
Year 11 Careers Guidance appointments + follow up appointments with the School Careers Adviser + 15 Billion Careers Adviser
SEO Scholars Advance Careers Programme – project for G+T Year 10s with insight days to leading city firms and organisations such as Freshfields, Royal Academy of Engineering and visits to Oxford and Cambridge Universities
Year 11s Access to Annual Skills for London Excel Careers Exhibition
Industry Careers talks and visits organised via links with Newham Borough CEIAG Network, The Brokerage City Link, STEMNET, BLD (Black Lawyers Directory) and Subject Department link

Key Stage 5
Year 12 and 13s Lunchtime Careers Drop In Clinics (held on Thursdays) and Careers Guidance appointments with School Careers Adviser
Visits organised to leading City Employers and Careers Events
6th Form Summer enrichment programme of university visits, taster days and subject Master Classes
NAS National Apprenticeship Service – Assembly Presentation

Examples of Careers Mentoring Projects
CMN Creative Industries Mentoring Project - links Year 12s account and brand managers and creatives from marketing and advertising agencies
"I can you can too" mentoring project. Year 12s attending 5 or 6 employability workshops at EY leading financial Services employer
The Brokerage City Link – Link us to Working in the City Days with major city companies and 1 to 1 mock interviews for 6th formers
Bart NHS Health Trust East London Careers Project - clinical hospital work experience placements for Year 12 and 13s
Realising Opportunities Russell Group Universities Project- links our Year 12s with undergraduate online mentors studying subjects they aspire to at 14 Russell Group Universities Pupils can access information about Careers Programme
Activities via Careers Adviser Menu of Services Assemblies, Form Tutors, weekly
Careers Drop In Clinics and regular School email updates
Parents and Employers please contact:
St Angela's School Careers Advisor
Chris Jarvis - chris.jarvis@stangelas-ursuline.co.uk
sT aNGELA'S provider access policy

Measuring and assessing the impact of our school careers programme on pupils
Student Careers Guidance Feedback questionnaires
Student feedback form mentoring projects and Careers Visits
Record numbers of students on Mentoring and Work Experience Projects
Record of numbers seen for careers guidance appointments and Drop In Record Careers Visits undertaken
KS5 - Routes to Success and ULAS log Careers Adviser IAG reports for KS3 , 4 & 5

---
Careers Links
Parents Guide To National Careers Week
Dear Parents,
Please click on the link below to view and download a PDF Parents Guide to National Careers Week:
The Parents Guide to Careers For National Careers Week
It has been produced by The Parents Guide To organisation - and includes useful careers information - especially on apprenticeships and vocational pathways after GCSEs or sixth form. There is also good information on the value of virtual work experience and how to speak to your daughter or son about their future.
There are links included to the Govt website on apprenticeships and to Speakers For Schools virtual work experience placements where our students in year 11, 12 and 13 can apply for work experience with major employers and organisations.
St Angela's is signed up to the Speakersforschools Experience Programme; Click here to register and look at work experience opportunities and events.
School Careers Adviser
Your Daughter's Future - a new resource on employability and aspiration for parents of young women in key stage 3 & 4
National Careers Service Website
---
Examples of Work Experience & Careers Insights
Examples of Apprenticeships, Work Experience and Careers Insights
Autumn Term 2021
Alumni Careers Talks | St Angela's Year 11s Rise Up Day
7th Sept 2021

We were very lucky to have some former St Angela's students, now working in successful careers with leading employers, come back to talk to our Year 11s. This was part of a One Hour Careers and Future Pathways Assembly for our new Year 11s as they return to School to start their final GCSE year.
A big thank you to our St Angela's alumni who now work in the media Fiona Makum (Presenter Westside Radio), The Civil Service Samad Chowdhury (Cambridge graduate now a Diplomat at The Foreign and Commonwealth Office) and investment banking Claudette Mae Mendoza (J P Morgan Chase) who all gave inspiring careers talks about their experiences after they left St Angela's in 2015 and what they have learnt about how to make good career choices.
Our alumni were also joined by Dani Cook (strategic partner at Facebook), who gave invaluable insights into the wide range of career opportunities in Social Media and was able to share information about the Facebook Elevate STEM mentoring programme which some of our current Year 13 students have recently taken part in.
Our Year 11s were really motivated by the sessions and asked some great questions of our speakers.
Head of Year 11 Ms Kerridge commented:
" The alumni session allowed the cohort to dream big and see where their life choices could take them. It emphasises the importance of hard work, that hard work does pay off and it highlighted the importance of being kind as you navigate your journey in any walk of life. It was an invaluable session to all in attendance"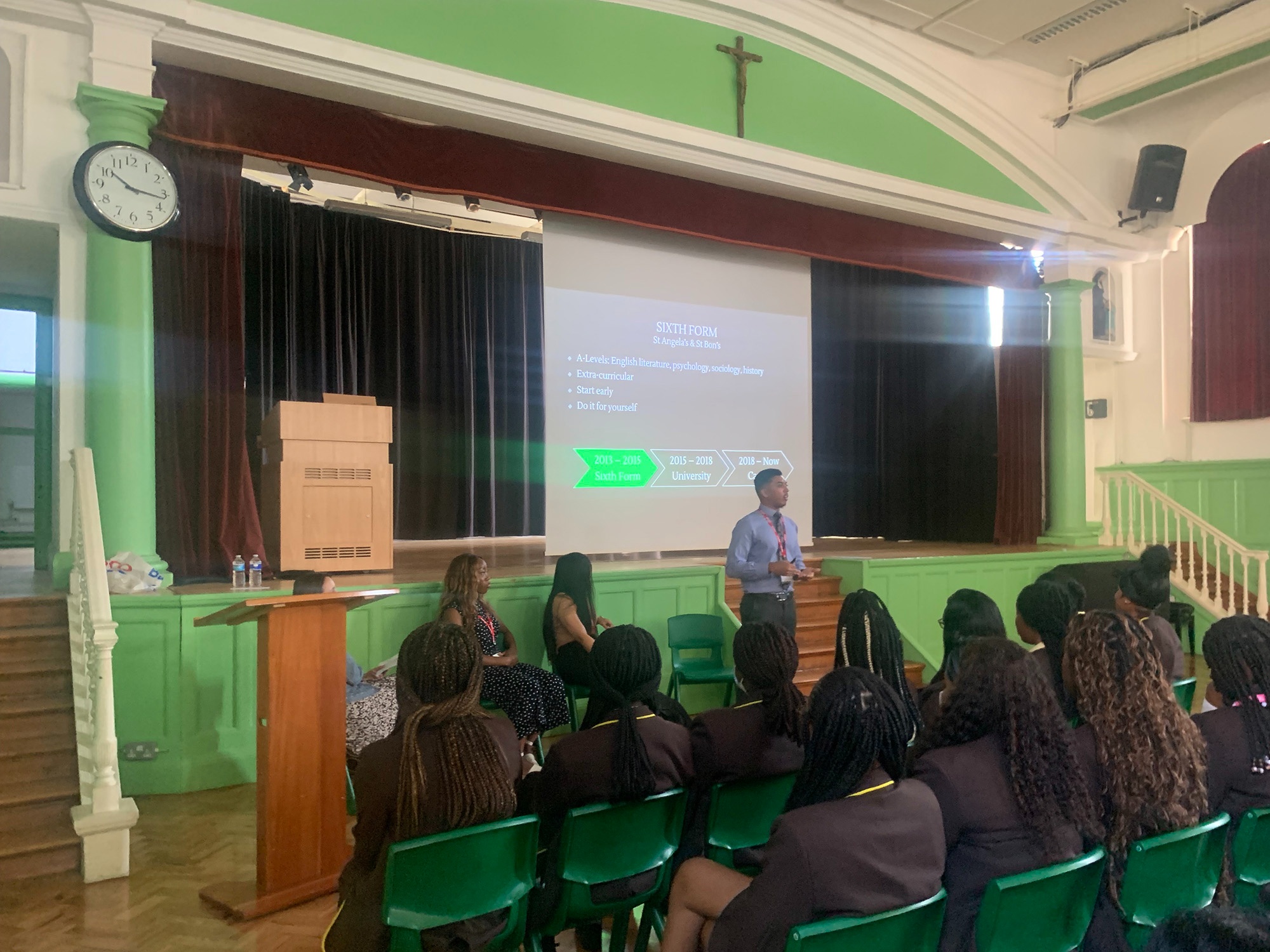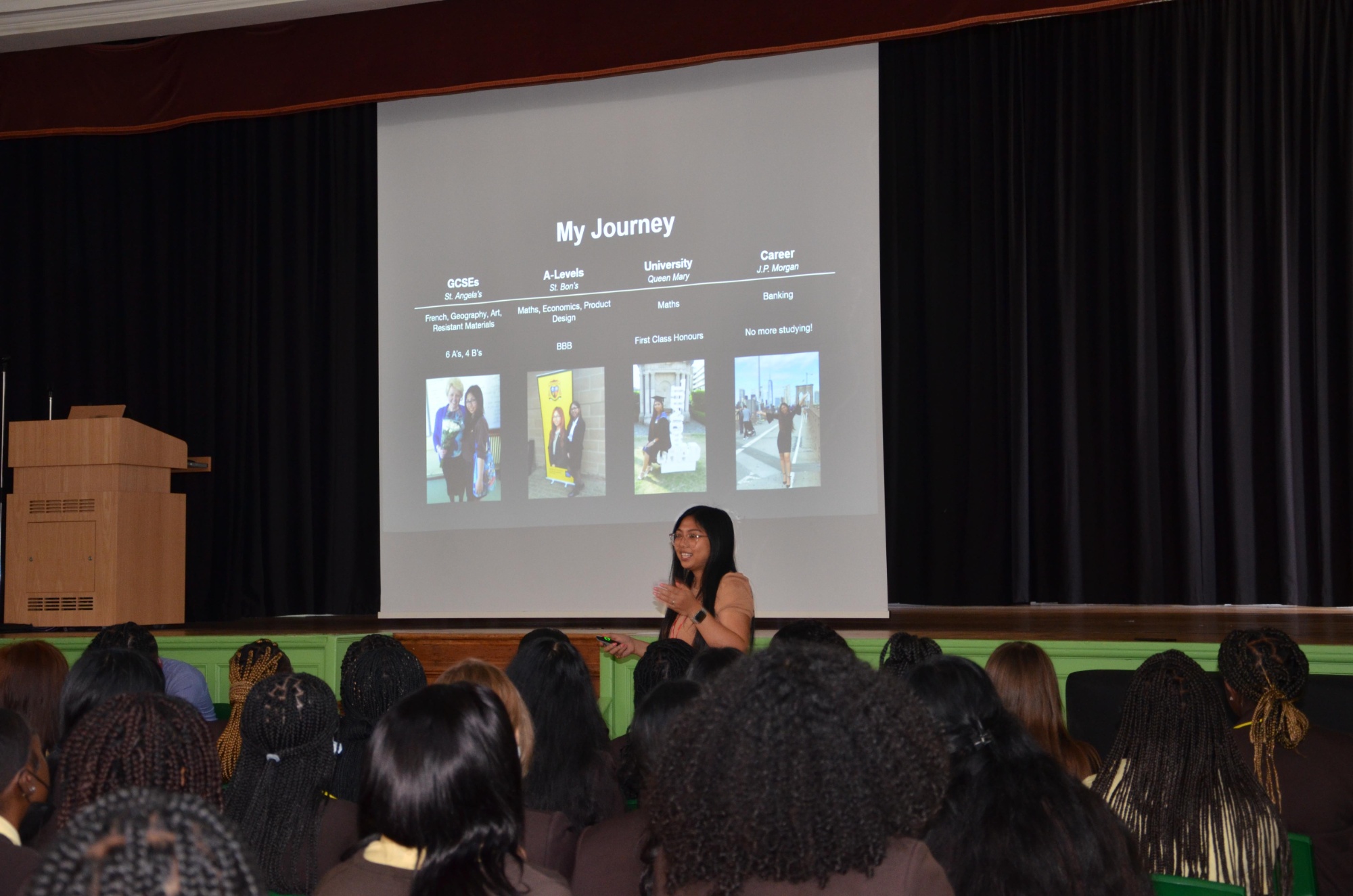 Summer Term 2021
Apprenticeship success stories for St Angela's Year 13s!
Four Year 13s have been successful in their applications for very competitive apprenticeship and pre – apprenticeships with major employers, as follows:
1 x Project Management Apprenticeship – with Arup Group Engineering
1 x Flying Start Audit Degree Apprenticeship– PwC– Price Waterhouse Coopers – Chartered Accountancy
2 x Pre- Apprenticeships with Nat West Bank for Data Analyst and Software Developer roles.
HSBC Work Experience via icanyoucantoo Mentoring Project
Twelve Year 12s took part in a two Day Summer work experience taster in July with HSBC Bank hearing from professionals working in different roles with the bank and learning how a mortgage works and interest rates. This has been set up by icanyoucantoo - who run a careers coaching and mentoring programme for our Year 12s and put our students in touch with major City employers.
icanyoucantoo – also ran briefing sessions earlier this term to help our students go through the process of applying for a whole week of paid work experience with HSBC in August and as a result a further Four Year 12s have been successful getting this sought after one week work experience at HSBC.
Bart's Health NHS Trust – NHS Careers Work Experience Weeks
Nine Year 12s who are aspiring to either medicine, nursing or midwifery have been lucky to access 4 days of virtual work experience for medical and healthcare professions. Four of our Year 12s undertook this in April and another 5 will take part in August. This is via our compact with Bart's Healthcare Horizons team.
Barts Health NHS Trust
Barts Health NHS Trust run hospitals in London including The Royal London, St Bartholomew's, Newham University Hospital, Whipps Cross and Queens Romford. This invaluable medical work experience gives insights into the day to day roles of healthcare professionals, what patient journeys look like and professional practice.
Engineering Development Trust / Industrial Cadets Summer Work Experience
In July and August Four Year 12s completed the Insight into University and Virtual Routes into STEM programmes with EDT to give insights into engineering, tech and STEM careers. This included a series of sessions from employers including- Glaxo Smith Clyne, Balfour Beatty, Babcock, BP and BAE Systems. University STEM departments at Cambridge, Southampton, Liverpool, Loughborough, UCL and others will also run online lectures.
Topics included: Biopharm, mechatronics, AI, careers in Tech, Bioengineering, aircraft design and more.
CFC Insurance Underwriting and Bank of Montreal
8 week Mentoring programmes
One Year 12 and one Year 13 took part in these mentoring programmes with a leading specialist insurance firm and an investment Bank. Again run with The Brokerage City Link.
Arpon Year 12: "I had an amazing experience in the CFC Underwriting programme for the past 8 weeks. My mentor helped me develop my skills and knowledge, provided many interview techniques and very helpful feedback. I am grateful to have been given this opportunity to be more confident in my aspirations towards the financial sector"
Trowers & Hamlins – Law Work Experience
Nine Year 12s were selected for 4 days of legal work experience in June through our School partnership with leading City law firm Trowers & Hamlins. They were able to learn about many areas of law from commercial and corporate to real estate and dispute resolution.
Nuffield Foundation Science and STEM – two week Summer Research Placements
Five Year 12s selected for STEM research placements working alongside scientists, technologists, engineers or mathematicians. Our Year 12s will complete an online research project. They will be linked to placements with university research departments such as Imperial, Kings and UCL, research institutes or industry employers.
University of The Arts London Art & Design – One week Summer School Taster courses
Three Year 12s took part in the UAL Insights 5 day taster courses visiting their prestigious Art Colleges, for higher education tasters of Art & Design specialisms. Two Year 12s did this at Central Saint Martins for Architecture and one Year 12 for Film Making at The London College of Communication.
Maths in The City Careers Workshop with Nomura and The Brokerage City Link
Fourteen Year 12s were given a place on this webinar via our partnership with The Brokerage City Link, who along with Nomura a global investment bank, introduced them to how Maths is used in the world of financial services
EY Ernst & Young Smart Futures | 3 weeks Work Experience and follow up Mentoring
One Year 12 successfully applied for 3 weeks paid work experience at EY London offices for this Summer via our links with the EY Foundation. EY are one of the big 4 global Accountancy and Professional Services companies. Our student will also benefit from EY mentoring in Year 13.
Young Professionals | Three days Year 11 Virtual Work Experience - June
Twelve Year 11s completed 3 days virtual work experience learning about a wide range of industries from a great range of major employers including: Sky, EY, PwC, Capgemini, IBM, HSBC, Berkeley Group, Glaxo Smith Kline and the RAF. Our Year 11s took part in skills based workshops and interactive tasks with these employers. and were also able to learn about CV's, Interviews, Assessment Centres, Networking.
Speakers for Schools Experience | Virtual Insight Days & Work Experiences | Summer term
Eighteen Year 12s and five Year 11s completed Insight Days and work experiences with the following employers:
NHS (nursing, health professions, NHS tech and apprenticeships days), Caxton (finance/hedge funds),
Ofcom (tech + engineering), The RAF, British Airways (women in engineering), Santander (banking),
Pozzoni (architecture), Bentley Motors (business and engineering), L`Oreal (digital), Kainos (intro to coding), Turner & Townsend (real estate/project management), Reed Smith (law), Tesco (CVs & interview skills) and Portland (PR and Communications Summer internship).
Mr Jarvis – School Careers Adviser
Year 8 Engineering Development Trust | Careers Challenger Morning
Summer Term 2021
All of our Year 8s took part in an Insight into Chemistry – EDT Industrial Cadets Challenger Morning- run by the Engineering Development Trust with The Royal Society of Chemistry.
This was delivered in our Science labs via Zoom with presentations from EDT and contributions from STEM Science ambassadors.
The session started with a video on why study Chemistry with an introduction to EDT Industrial Cadets and The Royal Society of Chemistry.
The challenge focussed on looking at Chemistry and Climate Change. Our Year 8s were able to investigate ways of reducing our carbon footprint using green Chemistry and worked on tasks to propose new ways of using Chemistry to help solve the climate emergency.
They heard from three female STEM Scientist Ambassadors who work in the pharmaceutical industries. This included a Clinical Trials Researcher, a Pharma Development Clinical Safety expert and a Clinical Trials Project Manager who work for Roche and Bayer Pharmaceutical companies who develop and test new medicines. All studied Biochemistry or Pharmacology degrees at University.
Joanne Bakewell form EDT commented on how good the questions were from our Year 8s which included:
"How was your first year working in lab?"
"Is it challenging working as a woman in a male dominated industry?"
"Will you be involved in the development of future covid medicines?"
It was good to hear that there are so many well paid careers for Scientists working in industry and also interesting to learn that actually in the pharma industries there are more women scientists than men.
A big thank you to all of our Year 8s who took part and participated so well during the morning. And to our Science Department who hosted the event.
Realising Opportunities Russell Group Universities Mentoring Project
2021-2022
Thirty St Angela's Year 12 students get a place on Realising Opportunities Russell Group Universities Mentoring Project 2021/22!
Realising Opportunities includes taster lectures, events and mentoring for sixth formers provided by fifteen of the country's leading Russell Group research intensive Universities. The Universities are: Birmingham, Exeter, King's, Lancaster, Leeds, Leicester, Liverpool, Loughborough, Newcastle, Nottingham, Queen Mary, Sheffield, UCL, Warwick and York.
Those completing Realising Opportunities are guaranteed UCAS degree offers from Russell Group Universities - 2 A level grades lower than their standard offer.
St Angela's have now been working in partnership with RO for 8 years through our host university Kings College, University of London. In April we had the fantastic news that thirty of our Year 12s have been successful after applying to take part on this year's programme, with
Realising Opportunities informing St Angela's that we now have the highest number of Year 12s on this major Russell Group Universities initiative than any other London School!
All eight of our Year 13s who completed the 2nd year of Realising Opportunities received fantastic RO reduced UCAS offers at Russell group universities, examples of offers received as follows:
Politics - Warwick - ABB (instead of AAA)
Politics - Queen Mary – BBB (instead of AAB)
Economics- Exeter - BBB (instead of AAA) plus a £1500 RO Scholarship
International Relations-Birmingham – BBC (instead of ABB)
Pharmacy - Kings College University London - ABC (instead of AAB))
RE & Philosophy - Kings College University London -BBB (instead of AAB)
Psychology - Kings College University London - AAB (instead of A*AA)
English - Kings College University of London - ABB (instead of AAA)
Maths - Kings College University of London - AAC (instead of AAA)
Maths - UCL University College London - A*A*C (instead of A*A*A)
With St Angela's excellent track record of working closely with this project going from strength to strength - we are looking forward to really high numbers of our current RO Year 12s making it into these prestigious Russell Group Universities in 2022!
Mr Jarvis – School Careers Adviser
---
Review date for careers information published on this page is: January 2022