St Angela's Win Newham Battle Of The Bands 2019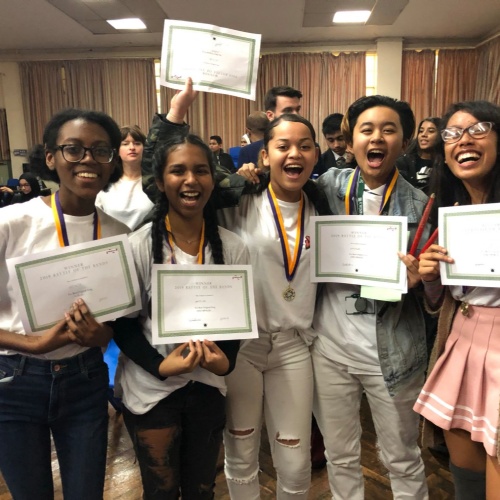 The St Angela's band known as "UNTITL3D" competed in the Newham Battle of the Bands 2019, held at Plashet School.
Having won the competition several times in the past (including 2018), three of the members from last year's band reformed with two new recruits to create UNTITL3D. They were up against tough competition from bands from Chobham Academy, Lister School, Stratford School, Plashet School, Langdon School, Little Ilford School and Oasis Academy.
Our band competed in the "Best Original Song" category performing the song "Heartbreaker", a song which Daniela composed. The vocals were led by the composer herself who also played bass guitar. On drums we had Mary, lead guitarist was Catherine topped off with the wonderful piano duo of Anika and Shanie.
Despite the fierce competition, with many commendable entries, UNTITL3D went on to WIN their category and continue our success in this competition! The judges were impressed by the band's positive attitude and impact on the audience. Each member clearly showcased their strengths both musically and in confidence. Mary's use of complex rhythms on the drums and Anika and Shanie's countermelodies on the piano along with Catherine's effortless riffs and Daniela's gripping performance as a singer - conveying all the raw emotions of the song - all contributed to the overall triumph of the piece.
Well done to the band and we look forward to their performances in the upcoming Chamber Concert and Summer Concert.