Tinu's Summer Playing With The Junior NBA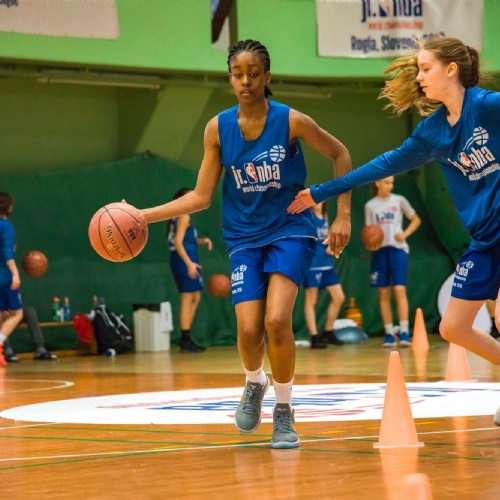 During the summer holiday Year 10 student Tinu had the opportunity to take part in the first Junior NBA World Championship Here Tinu tells us about her experience.
Slovenia 30 April - 5 May
It all started in April, when I was selected to go to a Jr. NBA camp, which took place in Slovenia. I was the only girl picked in England, alongside 2 other boys from St Bonaventure's School. It would give me the opportunity to meet people from over 20 countries in Europe, as well as learn from a variety of coaches. I was really excited!
Every day we would train for two hours, at least 3 times a day, but in between we would have rest periods. During the evening there was always a fun activity, whether it was going to the funfair or going to the arcade, there was always something to entertain us.
About halfway through the camp the coaches did a mini-draft (this is when you rank the players). To make the Europe team you had to be ranked in the top 10 (at that point I was not), However when we started playing, the coaches saw my potential. I made lots of friends and I still keep in contact with them.
Weeks had passed and I still did not know if I had made the team. One day I got back from school and the doorbell rang. I went to answer it and to my surprise the head coach from my camp and a BBC crew were at my front door with a large ticket saying, 'Welcome to the Jr.NBA Europe Girls Team'.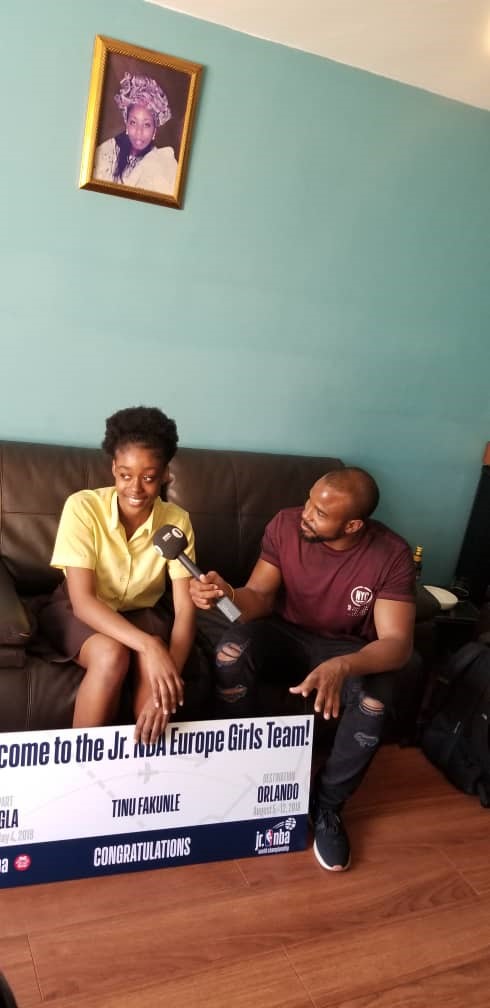 Valencia, Spain 30th July - 4th August
Before the World Championships, the team had a week to train in Valencia. We went on tours of the city, shopping and we got to meet more NBA players. We even got to take a picture with the NBA trophy.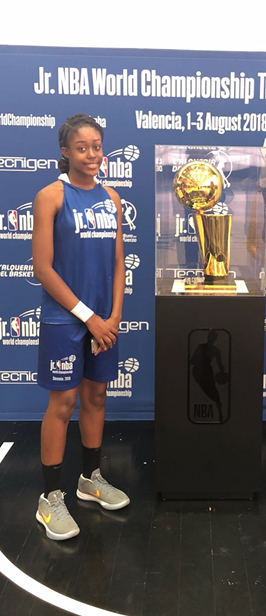 Orlando, America 5th - 13th August
After the 5 day camp we said our goodbyes and made our way to Madrid airport. It took us about a day to travel to the Orlando resort; This included a 6 hour drive, then a 9 hour flight, on top of getting on another plane. We arrived in Orlando at 12 am and finally got to the Disney resort at 2am. 6 hours later we had to get up for our media day. This is when you are interviewed by all the people who want to interview you and you get to take pictures by yourself and with your team. After the media call, we were all taken to Disneyland. We had a parade at Disneyland!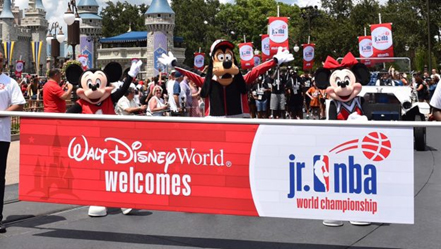 Then we had free time at Disneyland until 10pm. We went on a lot of rides as well as talking to other teams. The next day was the first day of the tournament. We played 4 games that day and won all of them. It was then on to the elimination rounds. As we kept playing, we kept winning and we won the international title!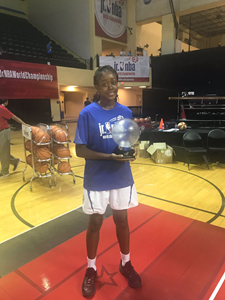 I felt proud to be in the first European Jr NBA team!
Tinu, Year 10